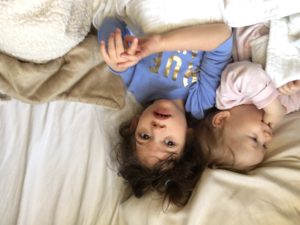 This is not a pregnancy announcement.
Also this title may read "Why Parents of Special Needs Kids Keep Adopting Babies". Or, "Why Parents of Special Needs Kids Keep Growing Their Families." You get the idea. And you've seen it before. Maybe, if only on that new NBC show "Speechless". The family with the van rolls up and not only does a child in a wheel chair come out but also another child and another child and a parent and a friend and ….
Why on earth would a family with a disabled child insist on adding more chaos and numbers to their already full hands? It's making the rest of us with 2 healthy children and a clean SUV very uncomfortable!
I'm here to talk about that. While I definitely don't speak for everyone with a disabled child (obviously), I've gathered my thoughts on the subject. I can confidently say after having spent 3 years with a child with special needs and 1 year with one without (Well, that's still up for debate. Just kidding. She's my kid so I'm allowed), I would still like to have more kids. And here's a few reasons why:
1. Why not us?  
Why shouldn't we dream of having a large family, even if our first child ended up different than we expected? Families with healthy children are not often questioned or looked at sideways when they choose to have a 2nd, 3rd, or 4th child (Ok, maybe they are with the 4th). Even after our second pregnancy many people hesitated before they got too excited, wondering if we meant for that to happen. And surprised that we were "brave enough" to move forward. I'm not blind to where they were coming from. I really do understand. But imagine the surprise when we have started leaking that we may want a 3rd! You don't have to institutionalize me, I'm just a mom who wants more babies.
As long as my husband and I have been together we have talked about having  3 children. After Jane was born I wondered what the future may be like and if that reality should change. But I also decided that she would never be a reason to not keep making them babies.
She would never hear us say, "Well, we wanted 3 but then Jane …"
"We wanted a large family but then Jane…" Jane's disabilities would never be a reason for us to not move forward.
2. The sibling factor. 
Jane deserves some siblings. And not just one, but a team. I understand that having 3 (or 4, who knows) including one with disabilities will be very…full. But unlike most families, we have to take into account our little Haven. Barring a miracle for Jane's circumstances, Haven will, in some ways, never have a typical sibling experience. She will most likely help care for her older sister, help push her older sister's wheelchair and have to answer questions about her older sister. This is going to be so much more emotionally possible for Haven if there is another sibling to share her experience. To bounce thoughts off of that she is too hesitant to say to her parents and someone else to lean on when it seems like too much for her to handle.
Also, kids learn from other kids, and giving Jane more kids to learn from is a healthy thing to do.
3. The future is unknown. 
This is obvious for any parent but it is a very present reality for our family and I think it rests in all of our extended family's subconscious. Jane is not terminal, nor has there been a life expectancy given to her. For that we are so grateful. But our everyday reality is that Jane has multiple seizures a day, she has a difficult time managing her own secretions and she does not know how to manipulate her limbs to save herself from falling or danger. She is the strongest 3 yr old I have ever known, yet she is fragile. Should anything happen to her prematurely, I would absolutely regret not having more children.
4. We have a minivan.
So they would all fit.
5. It's already crazy. 
Our life is crazy. It is very unpredictable. We never know when we will be called to the hospital, when seizures will take over or we'll have to go to emergency. So why not just keep all the crazy within the same decade and deal with it all at once rather than jumping out and diving back in again? Ya feel?
6. It's a gift. 
I've watched friends struggle with infertility. I've seen my friend's ability to carry children be completely stripped from them. Carrying healthy babies is such a gift. I don't take that for granted. And I don't want to stop just yet.
7. Parenting typical children is simple.
I've chosen my wording because I've had a typical child for a year now and it is difficult in it's own right, for sure, so I would not call it "easy" (Even though I want to really bad). Also I have yet to experience the emotional complexities of much older children. But gosh guys, having a "normal" child is simple.
They let you take your baby home from the hospital and keep it? All you have to do is feed it? Help it when it cries and change it's diaper? Simple.
You don't have to give it medication every 4 hrs everyday for an undefined amount of time and replace its g-tube when it gets clogged? Easy.
Social workers don't come to your house every 6 months to interview you about your child's well being and development? Easy.
You don't have to call medi-cal, social security, the school, the county, the pediatrician, the neurologist, and the gastrointestinal specialist once a week?
You mean to tell me that they eventually go to the bathroom on their own!? Simple.
8. I have done the research. 
I've literally conducted interviews with siblings and parents of now special needs adults. They don't know they were interviews. I told them we were having a "conversation". In all seriousness, these conversations have altered my viewpoint on my growing family. The common denominator of the now 4 families I've personally spoken with is that they all have atleast 4 kids in their family. And not one of the representing family members regrets the fact that multiple kids were involved in their very full, messy life.
One sibling told me that her special needs brother made her a better person. A more helpful person. A more slow to speak person. And she is now more likely to notice and make time for the outcasts.
Another sibling told me it wasn't easy and it never became "easy" (Then I excused her from my home. Jk). It wasn't easy but it made them strong, adaptable, and more understanding humans.
The parents I spoke with encouraged me and were overjoyed to learn we wanted more kids. They never knew their life would involve a disabled child, but when it did it changed them from the inside out, making their arms, hearts and capacity for challenges so much bigger.
One last conversation I will share came from one of these parents. Their family had a total of 4 kids. She said she wished she would've had 5. She told me that her marriage and her typically developing children were like bricks, and all that her special needs child brought to their family was nothing short of sticky, messy, and hard to handle. Much like the cement in between bricks. But without his messy, their bricks would just be bricks. With his messy, their bricks were now a wall. A strong wall. She told me that our children are our bricks and she encouraged me to "just, keep, building" even when all that's between is messy.
9. Fear will not dictate our decisions. 
I have struggled with past "what ifs" and future "what ifs" enough for a woman twice my age. But that is no way to live or move on. I am well aware of what could go wrong with having a baby, because it all happened with my first. I am strengthened and encouraged by the words in Isaiah that say,
"Forget the former things; do not dwell on the past. Behold, I am doing a new thing!"
10. It's going to be hard, so let's do this.
Having 2 or 4 kids does not change the fact that our life is and will be hard. The moment our child became permanently blind, immobile and nonverbal, our life became difficult. The moment we saw her seize uncontrollably and were told her seizures would never be fully controlled, life got hard.
Life is not going to get easier for us unless God does a miracle. We may adapt to the difficult (see my last post), but it will always be tough. Having less children doesn't change that. And having more doesn't necessarily add to it either.
So, thank you sweet families who have gone before us for your examples. Thank you friends who rejoice when you hear our desires.
The question I find myself asking more often these days is not "How can you have more kids?" But, "How can you not!?"
For those who never knew why, now you know.